To fully grasp the difference between a target market and target audience, it's important to first understand that there are two ways to look at them.
The first one is to picture them as one big group (representing the broad target market) enclosing several smaller groups (representing the target audiences within that market).
Let's go back to the cosmetic brand example to illustrate.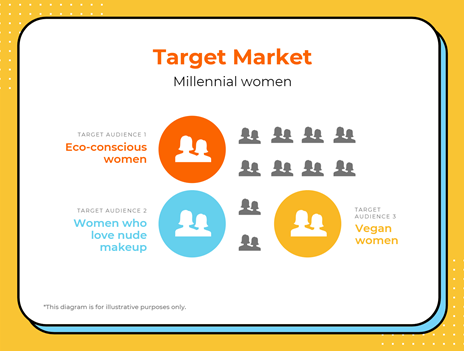 In this image, you can see that both the target market and audiences are end-users of cosmetic products. However, depending on your target audience for a specific campaign, your approach, copy, and creatives will have to change.
You may focus on the cruelty-free quality of a product if you're targeting vegans. Meanwhile, you may focus on creating glam videos or nude makeup tutorials if your campaign is targeting women who are into nude cosmetics.
Now that you see how a market and audience could overlap but still differ, let's talk about the second way to view these two.
In some cases, a target audience is not an end-user. However, you could still direct your campaigns to them because of how they're related to your target market and how specific circumstances could lead them to purchase. Take a look at the image below for a visual explanation: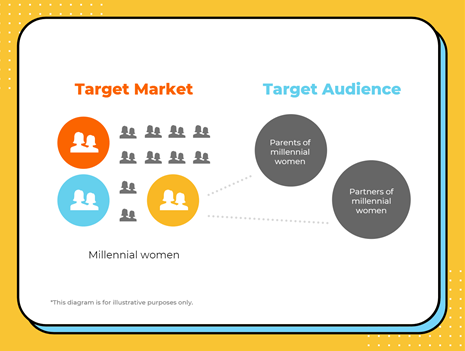 While the women's partners aren't your target market, they could potentially be your customers if they're looking for gifts for their partners. With that, they could make a great target audience, especially during special occasions like Valentines' Day and Christmas.
As you can see, your target market may or may not be the same as your target audience. As end-users, your market will affect almost all of your business decisions, including your branding, product sourcing, pricing, and packaging. Meanwhile, your target audience will impact only the specific campaigns directed to them.