Simply put, a  dropshipping business  is a retail fulfillment method where a shop doesn't need to store inventory it sells. When the dropshipping store receives an order, it buys the product from the third-party vendor and has it delivered directly to the customer.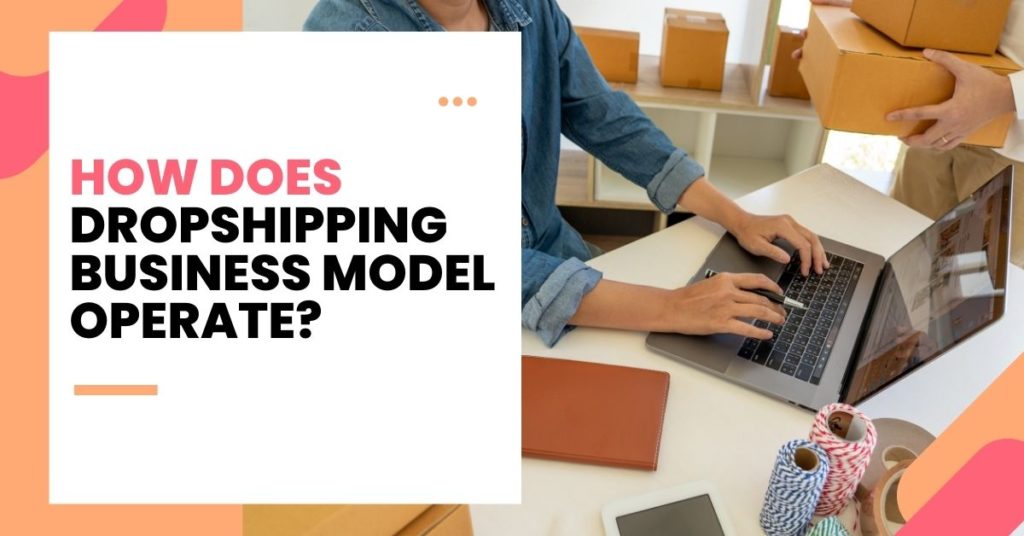 All in all, the biggest difference between a dropshipping model and a conventional retail model is that the dropshipping store owner doesn't stock or own products. Instead, they purchase things from the supplier and get them shipped to the customer directly without any intervention.
In other words, you don't have to engage with product handling at any stage. Interesting, isn't it?
Unlike the retail business model, the dropshipping business model is accessible and cost-effective.
With the dropshipping business model, you can easily test different business ideas without thinking about financial loss.
Here are a few reasons why the dropshipping business is the best option available for aspiring entrepreneurs.
It is Easy to Set Up
Building a successful dropshipping business is easier as you don't have to deal with physical products. When you start a dropshipping business, you don't have to worry about acquiring a warehouse or tracking inventory for accounting reasons.
Apart from that, packing and shipping your orders and handling returns and inbound shipments isn't your responsibility either.
Less Capital is Required
The biggest perk of starting and running a dropshipping business is that you don't have to invest thousands of dollars upfront.
With the dropshipping business model, you don't have to purchase a product unless you have received an order. This enables you to add more products to your product range.
Needless to say, there's less risk involved in starting a dropshipping business than a traditional retail business model.
Low Overhead Expenses
Since you don't have to purchase inventory and invest in a warehouse with a dropshipping setup, this will significantly lower your overhead expenses.
Many people start and run their dropshipping business from the comfort of their home. And all they need is a laptop and a working internet connection to run a business.
Yes, there are a few recurring operating costs. But they're still too low if you compare them with your conventional brick-and-mortar stores.
Remote Location
You can run your dropshipping business from anywhere. As mentioned above, anyone having a laptop and an internet connection can start a dropshipping business with the least possible investment upfront.
Easier to Scale and Test
The Dropshipping business model enables both new and seasoned online sellers to test the viability of different business plans.
Besides, most of the work to process orders will be handled by the suppliers, meaning you don't have to spend hours and hours in front of your computer to handle the additional workload.
Here are seven steps to building a successful dropshipping business
Choose a Niche for Your Dropshipping Business
The first step to creating a profitable dropshipping store is to select the right niche. Make sure you choose the product range in which you're genuinely interested.
Remember, choosing the wrong niche will result in discouragement because it takes plenty of time for a dropshipping store to scale and return rewards. And if you're not passionate about your niche, you'll end up feeling exhausted and disappointed soon
Things to consider before choosing a niche for your dropshipping business
Choose a niche with high-priced products: For a dropshipping business owner, the hard work revolves around customer acquisition and marketing. The good thing is that the amount of work needed to sell a $15 product is the same as selling a $1500 product. So, it's better to choose a niche that has high-ticket products to increase your chances of earning more profit
Look for products that are not too expensive to ship: The biggest perk of building a dropshipping store is that the delivery and returns will be handled by the supplier. But if the cost of delivery is too high, it will act as a buyer's repellant. Choose a supplier that offers a free delivery option so that you can attract more sales
Your product range should trigger impulsive buying: Your products should be compelling enough to attract buyers with disposable income and financial stability so that they can make a purchase instantly
Choose in-demand products: Make sure you use keyword research tools to check whether your chosen product range is searched by potential buyers
Choose products that you can white-label: Add more value to your dropshipping store by rebranding your product range. Look for products that you can easily white label and sell with customized packaging and branding
Sell something that is not readily available: Increase your chances of getting more exposure by choosing products that are not commonly available to your target audience
Conduct Competitor Analysis
The biggest mistake potential drop shippers make is they select a product range that has little or zero competition.
Yes, you should look for products that are unique and exclusive, but a product range having no competition at all signifies less demand for that particular product line. Also, low competition could be a sign of high shipping costs or inadequate profit margins.
To make your business model sustainable and successful, make sure you choose a product range that has reasonable competition.
Find a Supplier
Once you have identified your niche and conducted a competitor analysis, the next thing you should do is find the right dropshipping supplier.
Keep in mind, collaborating with the wrong vendor can ruin your business. So make sure you get this step right.
The majority of suppliers are based overseas, meaning you have to put extra effort in to keep effective communication with your suppliers.
Make sure you ask lots of questions to know more about their production abilities and their potential to scale with your business. Also, ask about the number of partners they have, their pricing, and other relevant things and contractual terms you would like to negotiate on.
Jot down a list of suppliers you can work with. You can start researching them online. But make sure you also talk with their support team over the phone to find how their business runs.
There are many online sources, such as dropshipping forums that can help you avoid costly supplier mistakes. So make sure you benefit from those platforms as well.
Create a Dropshipping Website
Once you have everything in place, it's time to create and launch a website that supports dropshipping business models.