Recent studies show that 87% of shoppers go online as the first step of their purchase journey. It's no surprise then that some of the best business strategies tap the power of the Internet.
Depending on your target market and business budget, you may employ any of these customer acquisition strategies for your dropshipping store: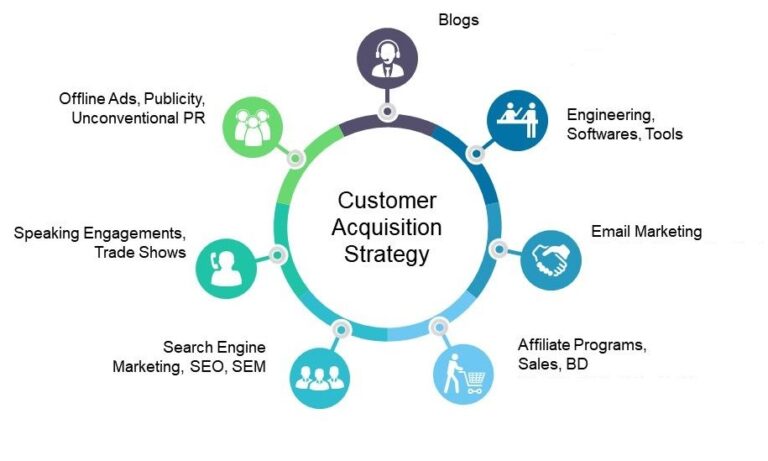 We'll discuss these strategies one by one. But before we do that, it's important that you first understand the different types of media you'll need: owned, paid, and earned media.
These media aren't just useful for customer acquisition but also for other marketing campaigns.
Owned Media – is any channel and content that you own and have full or partial control over. Common examples are a website, social media accounts, and blogs.
Paid Media – is any content, advertisement, or sponsorships that you pay for.
Earned Media – is any content about your brand voluntarily created by a person or a company. It could be in the form of a social media post, product review, blog feature, or word of mouth, among others. It could also be an owned post that became viral and earned you lots of social shares and brand mentions.
You may leverage a combination of these media types to continue reaching new customers. Now, let's take a closer look at the different customer acquisition strategies you can use.
Content Marketing
A content marketing strategy will have you craft, publish, and share content that can attract customers.
You can optimize your content by making it relevant to the needs of your target clients. You also have to make sure that your materials and creatives have consistent quality and are easy to understand.
Popular content types include blog posts, infographics, videos, photos, and the like. Dropship suppliers usually provide videos and photos you can use, but you can improve them by adding some aesthetic or attention-grabbing elements.
You may also share product photos posted by satisfied customers, create infographics that detail your product's benefits, or write blog posts that add value to your audience.
Organic Search Marketing
Search marketing can be classified as either organic or paid. We'll tackle the paid type in the next section, so let's focus on the organic type for now.
Organic search marketing is also known as Search Engine Optimization or SEO.  By implementing SEO best practices, you can boost your website's ranking on search engines and increase your website traffic.
But of course, just getting traffic won't get you anywhere. You'll need qualified traffic, which you can get if you carefully select keywords that are relevant to your site and are aligned with your goals. With the right keywords, search engines will understand your site better and will be more likely to rank your pages for relevant search queries.
SEO best practices may change from time to time, but some of the evergreen tactics include incorporating your target keywords into your store's product titles, product descriptions, and URLs. And of course, don't forget to always optimize for a better user experience as you optimize for search engines.
Paid Advertising
This strategy refers to ads that you pay for. It's a broad umbrella of strategies that involve paid search marketing, display or banner advertising, and social media ads, among others.
Depending on your choice of platforms, advertising fees may either be on a pay-per-click basis (as is the case of search ads) or on a pre-set campaign or ad set budget (like in the case of Facebook ads).
Paid search marketing is where you pay a search engine like Google so they'll feature your business on their sponsored listings. It's a quick way to get eyeballs on your website—something you won't easily get if you stick to organic marketing alone.
Display or banner ads, on the other hand, is when you pay for ad spaces on websites where you want your advertisement to show up. Banner ads usually appear on either the top, side, or bottom part of web pages, and more popular websites usually charge higher than their less popular counterparts.
Social media ads, particularly those that appear on the side of your Facebook's desktop interface, are also sometimes called banner ads. However, social media ad is the all-encompassing name for all ad types you see on social channels.
Whatever paid advertising methods you choose, the important thing is you target your ideal customers and make your ads as compelling as possible. There's no surefire way to tell if an ad will perform well, so don't hesitate to test and then optimize based on the results you get.
Social Media Marketing
Social media marketing involves creating an account on a social media platform and then using that to reach people and cultivate a fan base over time. You can share various types of content on social media, making it an ideal platform to offer value and lure people into your acquisition funnel.
Some platforms also have specially designed features to help online sellers, just like Facebook's Shops feature and Instagram's Shopping feature.
Facebook Shops  was launched to enable businesses to create online stores for free, create customizable collections, and engage with Facebook users who fit their target market. This feature also includes messaging integration, allowing sellers to communicate with shoppers via Messenger, WhatsApp, or Instagram Direct.
As for Instagram Shopping, it's an Instagram feature that allows sellers to use shopping tags and lets customers shop from the app. Sellers can also use Collections, which are curations of products by theme.
By harnessing these social media marketing features, you can create a community centered around your products and that will make it easier for customers to shop from you. Overall, a strong social media presence can help you connect better with your target market, raise awareness about your brand, and boost your sales.
Influencer Marketing
Tapping the right influencers can generate your business a lot of exposure and qualified leads. Who are your ideal influencers? They're social media personalities who've made a mark in the niche your business is in.
Don't just pick an influencer because they have a huge fan base. You have to make sure their followers are relevant to your offer. Also, it pays to pick someone who can promote your product in ways that resound authenticity and create interest in your brand.
Recommended Reading: Create an Influencer Marketing Strategy for Your eCommerce Brand
Email Marketing
Email marketing involves building an email list and then sending emails with defined goals. The goal could be to warm up your leads so they'll grow more interested in your products, to prompt them to buy, or to compel them to follow whatever call to action you include in your message.
For eCommerce businesses, the commonly used emails include welcome messages, product updates, discount offers, and newsletters. Just be sure to deliver great content and a strong call to action. This way, your email subscribers will be interested in opening your messages and not immediately block you or ignore your emails.
Many businesses also use autoresponders that automatically send and reply to emails via pre-written messages that follow pre-defined automation rules. You may also use autoresponders to schedule messages that can warm up your potential customers until you announce a sale or a major event.
Mobile Advertising
This strategy targets your prospective customers as they use their smartphones, tablets, and similar mobile devices. Several tactics fall under this approach, but we'll stick to the two most popular: SMS advertising and geotargeted mobile advertising.
SMS advertising is when you send SMS to your subscribers. People check their phones several times a day, so it's a no-brainer that businesses should take advantage of mobile services to reach their leads.
Geotargeted mobile advertising, on the other hand, is a great way to make ads more relevant to customers. You may use it to show people only the content relevant to their location; this method allows you to tailor your popups, redirects, or special messages to your shoppers depending on their ZIP code or country. You can also run geotargeted mobile ads in several regions.
Recommended Reading: SMS Marketing for eCommerce: An Updated Guide
Referral Programs
Word of mouth is and always will be a good marketing strategy. And you can leverage it by launching a referral program.
A referral program involves giving incentives to your existing customers or followers when they spread the word about your products. It could be a powerful tool to trigger virality, and it doesn't have to cost you a lot as long as your incentives are attractive to your target market.
Because of the popularity of this strategy, you can easily find free and paid referral program software online.