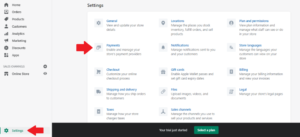 If you find that Shopify's features are suitable for you, you'd be glad to know that creating a Shopify dropshipping store is not as complicated as it sounds.
Let's take the process one step at a time, with the points listed below as your guide.
1. Create a Shopify account
Assuming that you already have a business plan laid down (including your niche, target market, etc.), you are now ready to open a Shopify account. To do that, visit the Shopify website and click "Start free trial." You will then be prompted to provide your email address, password, and store name.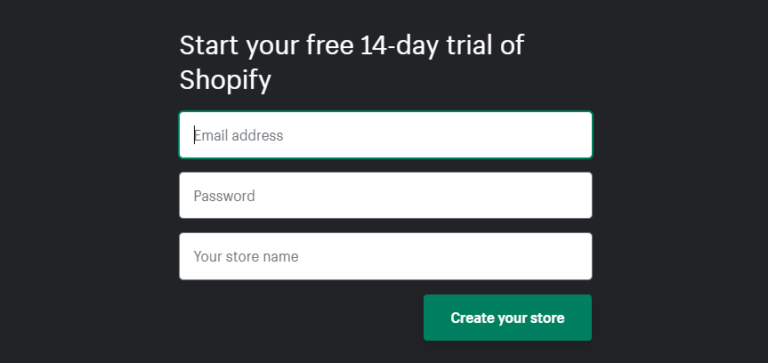 It's a good idea to think through your store name ahead of time. Make sure it's catchy and check if it's unique or isn't already copyrighted. You can also use a draft name for now and then just change it later on.
Once your account is created, you'll see a prompt to select a plan on Shopify's dashboard. You can follow this call to action if you're ready for it. But we recommend taking advantage of the free trial for now.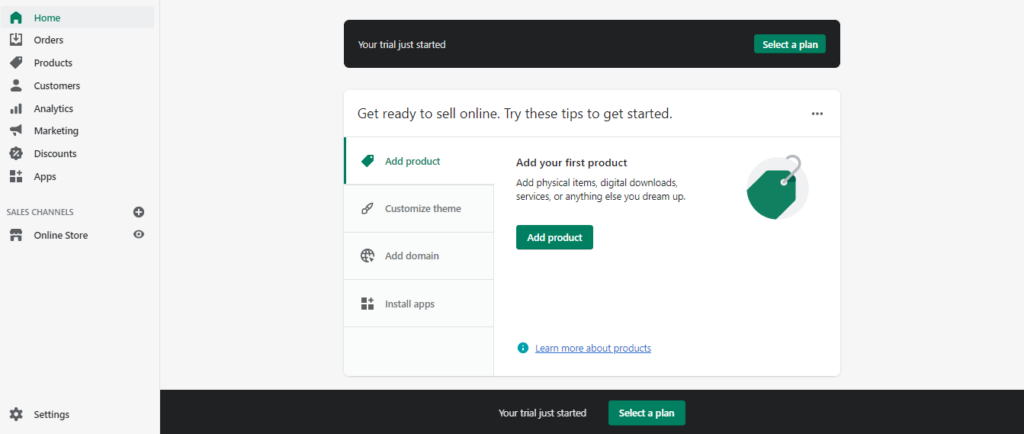 2. Add products
You can use apps to research and add products to your Shopify store. Wiio's on-the-ground research and procurement team, for example, can source hot products for you in mainland China.
Now, you might be wondering why we immediately jumped to adding products when your store isn't fully set up yet. You can actually choose a theme or set up your domain first. But having at least a few uploaded products will allow you to see how your product pages or photos will look like as you test different themes or designs.
Going back to adding products, you should know that there are plenty of ways to find dropshipping products for your store. You can start with a few items that make sense for your chosen niche. But be sure to refine them later on, especially if you aren't yet confident about your product suppliers.
3. Pick a theme for your store
Shopify offers plenty of free and premium storefront designs. You can start with a free one—just make sure that it's good enough to provide a smooth user experience.
You could also explore themes that look somewhat different from your competitors' sites. However, try not to deviate too far from the usual online store designs as that could end up confusing users instead of enticing them to stay and buy.
4. Set up your domain
When you use Shopify's free trial, your store's URL will look like this: https://your-store-name.myshopify.com.
Doesn't look so professional, does it?
To help establish your store's credibility, it's best to set up a professional domain name before you launch your business. Plus, a branded name will make it easier for customers to remember and revisit your site.
If you don't have a domain name yet, you have the option of buying one through Shopify or from a domain name registrar like Namecheap, GoDaddy, and Bluehost.
One advantage of purchasing from Shopify is that the platform will immediately set up your Domain Name System (DNS) records. If you purchase from outside Shopify, you'll have to manually set this up yourself or ask for support from your domain provider.
5. Set up your payment gateways
The payment method you offer could either encourage or discourage customers from checking out their orders. You'd want to have the methods your ideal customers prefer. Otherwise, you might end up with lots of abandoned carts with no chance of being converted into sales.
To set your payment methods, go to Settings and then click Payments.
Depending on your location, you might see that PayPal or Shopify Payments is activated by default. However, you'd still have the option to disable them. You'll also need to provide complete account details before Shopify can transfer funds from successful orders to your bank account.
Keep in mind that payment gateways have their associated transaction fees. Shopify Payments imposes no extra charges, but it's available only in select locations. With that, it's best that you take some time to consider some of the top-rated payment gateways for Shopify stores, weigh their pros and cons, and then decide from there.
6. Select a Shopify plan
Your free trial only lasts for 14 days. Beyond that, you have to pay for a subscription plan so you can continue selling. Here are the plans that Shopify currently offers:
The Basic Plan is usually the most ideal for new dropshipping stores. You can start with that one to minimize your startup costs. Then, when you scale your business and generate more profits, you can consider upgrading to a higher plan.
All four Shopify plans include a secure web hosting service. If you already have that and you simply want to optimize an existing website for eCommerce, you can try Shopify Lite at $9 per month.
7. Add more pages and content
Your home page and product pages aren't the only important parts of your eCommerce website. For starters, here are the other pages you must set up:
About page
Frequently asked questions
Return and refund policy
Terms and conditions
Contact page
You'll also have to design your site with an intuitive navigation menu. You can model after some established Shopify stores—just make sure that the design isn't confusing to users.
Later on, once your sales have started to take off and you have more reviews and products to offer, you can explore adding more useful pages, like a Reviews page and Product Bundles page.