What is Dropshipping?
Dropshipping is an order fulfillment business model wherein the seller does not own a physical inventory of his items. Rather, a reliable third-party source—a dropshipping platform—takes care of the inventory management and fulfills the orders for the seller.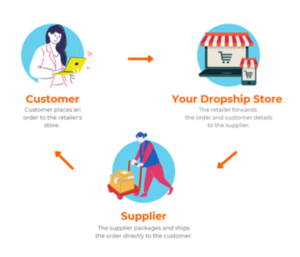 The key to successful dropshipping is to find a remarkable platform that will open the way for the seller to be connected to thousands of suppliers of the best-selling products all over the world.
Why Should You Start Dropshipping?
Dropshipping, a $15 billion industry, is branded as one of the best and easiest ways to start an eCommerce business, especially if you are a beginner. Here's why:


1. Easy to start
Unlike in retail, in dropshipping, you won't already have to worry about these things:
Sourcing the products you want to sell

because you will automatically be connected to the world's biggest suppliers.

Purchasing

because your third-party partner will purchase for you. And, if the platform has a credible connection with the supplier, you will surely get it at the lowest price in the market.

Managing inventory

because they will store your products safely and you won't need to pay for warehouse fees (if they do not have any charges).

Quality checking

before shipping out. A good third-party source will inspect every item to make sure it is in the best condition for your customers.

Shipping

because they will handle shipping your items anywhere on the globe.

2. Very profitable
Dropshipping is a low-risk business model that allows you to sell products to your customers without incurring high operating costs as a wholesaler would.
Because of these lower costs, it is easier and faster to profit from dropshipping compared to other business models. You can set the price of your products in a way that covers marketing and shipping costs while gaining profit.
3. Low beginning capital
The biggest advantage of dropshipping is its low beginning capital requirements. You won't have to stock up on inventory. Your items are already secured or bought by your customers before you process the orders.
4. Wide range of products to sell
Since you don't need to worry about inventory and all your sales are made pre-purchase, you can explore and sell different types of products in your eCommerce store. 
5. Flexible location
You can dropship to anywhere you'd like. All you have to do is pick a good market, do your research, and work with your dropshipping fulfillment platform!
Why Chile is a Good Market for Dropshipping
Good internet connection

Increasing mobile devices usage

Diverse and inclusive environment

Biggest and most trusted payment gateways available (Paypal, 2CheckOut) 

Rapidly developing country

Strong economy 

One of the strongest and most diversified economies in South America

Solid business practices

Twentieth largest U.S. goods export market in the world

One of the best countries in South America to set up a business
Chile Market Challenges
High degree of competition 

Relatively small market size

More conservative and cautious businesspeople

Operating in Chile requires patience and a tolerance for delays associated with doing government-mandated paperwork and obtaining various approvals and permits
Best Products to Sell in Chile
Computer-related products

Smartphone-related products

Vehicle-related products

Souvenirs

Men's shoes

Jewelry (Lapis Lazuli –

The lapis stone is considered the master of light. It is the stone of wisdom, friendship, truth, integrity and lighting. Lapis builds relationships of love and friendship, and helps express feelings and emotions.) 

Wooden bowls/baskets

Alpaca

Cowboy outfits

Trays and kitchenwares

Copper art and pieces of jewelry – Chile's top export is copper. 

Woven fabrics
Looking for a one-stop dropshipping partner in China? 
Wiio Dropshipping manages all aspects of the dropshipping process for you—including product sourcing and purchasing, warehousing and quality control, as well as order fulfillment.